A Jeep is a combination of a daily vehicle plus a camping vehicle and an off-road vehicle. It may even be used for some towing here and there by some people. If you're looking for a Jeep JK lift kit for suiting all of your multi-use situations then the goal is to locate the optimum balance between regular everyday on-road drivability and some much-wanted off-road flexibility when it comes to your Jeep's suspension.
Lift kits are aftermarket product packages with the necessary parts for lifting specific vehicle models of vehicles. They typically include both step-by-step instructions as well as available customer support. Lifting your Jeep will take its standard off-road capabilities and dial them way up to give you a great deal more power for tackling off-road terrain plus more crawling ability for challenging even the most brutal terrains. If you want more off-road capacity then a Jeep lift kit could be an excellent option. Lift kit heights can range from 1.5 to 6-inches. Which particular size you choose is up to you and your Jeep as well as your off-roading aspirations.
Lifting your Jeep will increase ground clearance and suspension travel if you plan to do some serious off-roading. You also want to be able to accommodate larger tires simply because they're so much better suited to off-roading. Many Jeep owners simply like to lift their Wranglers just because it really makes them look that much better. We're going to review five of the top 3-inch lift kits for your Jeep JK to help answer your questions about this type of automotive product.
How We Wrote This Review
Reviews are subjective but we also tried to be as objective as possible in choosing our top five 3-inch lift kits for your Jeep JK. We scoured online automotive parts and product resources. We also contacted numerous local automotive stores and asked them questions about their lift kit opinions since everybody has one. Endless hours of research resulted in our top five choices.
You'd be surprised by how many aftermarket automotive products websites and experts there are in the world. Some are very informative and others not so much. We felt that we owed it to you to make sure that we had scoured every possible bit of expertise in this particular area and we hope that our reviews will help you to choose your lift kit while also spending a lot less time on it!
Things to Consider Before Buying a 3-Inch Lift Kit for Jeep JK
You want to make sure that you're taking everything into consideration before buying a 3-inch lift kit for your Jeep JK. The additional height and ability to use larger tires that lift kits offer plus you'll also get to enjoy greater stability and articulation along with much higher ground clearance and exceptional approach angles for tackling those rocky obstacles and steep climbs as well.
You should start the process by asking yourself a few important questions like how you'll be using your Jeep and what type and size of tires you want to use. There's also the all-important question of how much you're willing to spend on your Jeep lift kit.
Comfort
You may be wondering if lifted Jeeps mean enduring a ride rough. The fact is that a Jeep with a 3-inch lift kit shouldn't ever offer a bumpy drive. It's true that it'll never feel like driving a passenger car but it shouldn't feel at all bumpy.
Durability
You want a lift kit that's designed to last around ten years or so. The five Jeep JK 3-inch lift kits reviewed here have been chosen for these reviews for maximum durability.
Getting the Best Quality Product
A typical lift kit will include lift blocks plus strut spacers as well as coil springs. Some will also include replacement control and trailing arms. You might need added alterations to your brake lines and drive shaft length plus your steering geometry for ensuring both proper driving capabilities and safety. This depends on what type of kit you install.
Price-Quality Ratio
You want to get the best lift kit for the best price just like you would with any aftermarket automotive product. That's why we chose and rated our choices based on this ratio.
Local Legal Requirements
One of the most important things to be aware of if you're planning to lift your Jeep is the local regulations and vehicle laws in your area. There are some states that don't even have any lifting limitation laws but others actually have some pretty strict requirements regarding the maximum height for lifting vehicles. That's why you should start by contacting your local DMV or going to www.liftlaws.com for more information.
Top 5 Product Reviews Product List
1. Full Lift Kit from MotoFab Lifts Including Shock Extenders- Three-inch Front & Rear
This Motofab lift kit is Jeep Wrangler JK compatible and is made of alloy steel. We chose this lift as #1 on our list because it's made in the USA and offers 100 percent bolt-on Installation. It also comes with a lifetime warranty.
Features and Benefits
This lift kit is compatible with 2007 to 2018 Jeep Wrangler JKs 4WD and Jeep Wrangler Unlimited JK 4WD vehicles. This is a benefit since many aftermarket lift kits are limited to only a limited number of model years.

The components in this MotoFab Lifts kit are manufactured using high-grade steel with a black powder-coat finish. High-grade steel offers a number of major advantages. They include everything from longevity to a high level of corrosion resistance and high strength for better load-bearing capacity and being eco-friendly.

This full lift kit from MotoFab Lifts includes shock extenders (three-inch front and rear). This is another benefit of this lift kit because any kit that's raising your Jeep by three inches will require new shock absorbers to make up the difference in the distance between the bottom and the top mounting points of the shocks.

It includes everything needed for installation. This includes two front coil spacers and two rear. You also get shock extenders for the front and rear of your vehicle. Front and rear brackets for the brake lines are also included along with complete instructions and all necessary hardware.
2. KSP 3-inch Full Suspension Lift Kit (Black)- Second Best Choice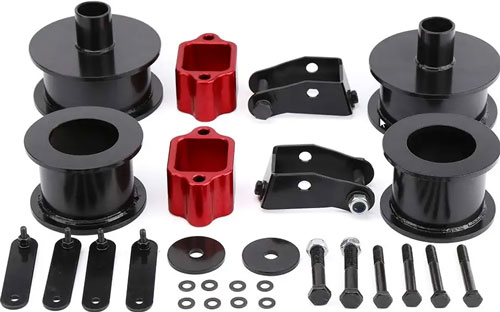 This three-inch front and three-inch rear full-suspension lift kit from KSP includes shock extenders and will fit 2007 to 2018 Wrangler JKs (both 2WD & 4WD) like Rubicons and Sahara Sports Editions plus Unlimiteds and more. We recommend purchasing two flexible pad blocks for the purpose of solving a rubbing issue between them and the coil spring's top cup during movement. It's also recommended that you use a coil spring compressor when installing this kit for making your installation much easier. The easy bolt-on installation generally only takes two to three hours.
Features and Benefits
This three-inch lift kit comes complete with:
Two each coil spacers (front & back, four in total) are made of heavy-duty carbon steel
Two each Shock extenders (front & back, four in total)
Two high-strength bolts for a secure connection
Four front & rear brake line brackets
Black powder coating that prevents corrosion
All necessary washers and hardware
Installation Instructions

3. Wrangler JK 3-inch Lift Kit with steel coil rear spacers from American Automotive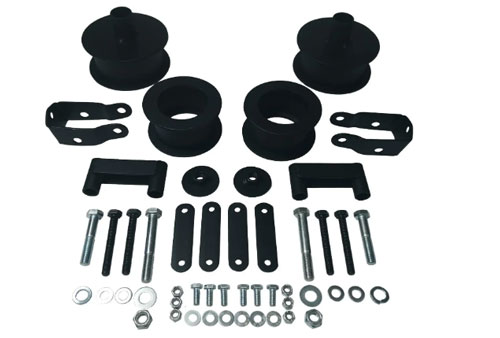 This is a full suspension lifting kit for your Jeep Wrangler JK with either two or four-wheel drive. It features three-inch steel coil spacers and shock extenders for both the rear and front of your vehicle.
Features and Benefits
This alloy steel lift kit fits the following 2007 to 2018 Wrangler JKs (both 2WD & 4WD) and the 2007 to 2018 Wrangler Unlimited JKs (both 2WD & 4WD)
Contents of the kit include:
Front coil spring-spacers made of steel (2)
Steel Rear Lift Spacers made of steel (2)
Both front & rear shock mount extenders (2)
Brake Line Brackets (front & rear-2)
All necessary hardware
Installation Instructions


4. Jeep 3-Inch JK Wrangler Lift Kit by Zone Offroad (Full Suspension)
This lift kit may not have been ranked #1 but it's still an excellent product that comes complete with some pretty sexy black nitro shocks. This affordably-priced Zone Offroad lift kit doesn't include brake line extensions but the lines are actually long enough without them.
Features and Benefits
This lift kit can be installed in five hours without any issues even without a car lift and everything included is of good quality. Zone lift kits are well-known for good quality materials. The company's products are made with a focus on strength and durability plus a perfect fit to ensure your ride looks cool while also performing well. This Zone lift kit is also a great option due to its low price and limited warranty that's offered at no cost.
5. Tuningsworld 3-inch Jeep Wrangler Lift Kit
This Jeep Wrangler JK (2WD/4WD) lift kit fits model years 2007 to 2018. It can increase your JK's on-road and off-road capability while maintaining a nice smooth factory ride quality on 33-inch tires.
Features and Benefits
This suspension lift kit lets you see the road a lot easier while enhancing driving safety and allowing you to handle hauling cargo with decreased sagging and minimal wear and tear. The package includes:
Coil spacers (front and rear)
Shock brackets
Shock extenders
Brake line brackets
All necessary hardware


FAQs
Q. Will lifting your Jeep cause problems?
A. If you lift it up too high without replacing your stock control arms then the wheelbase will be shorter and you could end up with driveline vibrations due to improper pinion angles. That's why it's important to remember that the higher the lift is then the bigger the issue will be when using your stock control arms.
Q. Are Lifted Jeeps safe?
A, Adding height means that you need to be aware at all times that high-speed cornering can be a bit more dangerous. The higher the center of gravity, the greater the rollover risk. Your lifted Jeep will be just fine if you're careful and keep an eye on your speed.
Q. Does installing a lift kit mean that you need new shocks?
A. New shocks are not necessary for lift kits because the shocks are never touched when you install the lift kit. You simply get more clearance while still being able to retain the factory alignment and suspension.
Q. How do Jeep lift kits work?
A. Basically they work by raising up the suspension of your Jeep's height via larger shocks and axles plus CV joints by a number of inches. You'll get a greater ability for avoiding certain hazards that you don't have with a non-lifted vehicle. You also get the added benefit of enjoying amazing views in comfort from an elevated ride height.
Q. Are Jeep lift kits worth buying?
A. Lifting your Jeep will take its standard off-road capabilities and dial them way up. This gives you extra power for tackling off-road terrain.
Q. How many types of lift kits are there?
A. Lift kits can be broken down into four individual categories. They are body lifts and spacer lifts as well as short arm lifts and long arm lifts.
Final Verdict
Lift kits are a great option for Jeep JK owners who love off-roading. Getting your Jeep lifted doesn't require you to be an off-road expert or certified mudslinger. Just be prepared to get your vehicle dirty and have some fun. You want your lift kit to be the best for the money and we hope that these five reviews will help you to choose the optimum Jeep JK 3-inch lift kit for your vehicle.
We want you to know that we stand by our #1 pick for the reasons listed in the review but the other four clearly wouldn't even be on our list if they weren't great products. Why not pick one and then buy it and install it? Then you should get out into the great outdoors and enjoy some major off-roading. You only come by this way once. Why not get elevated (at least by three inches anyway) and fly? Get a lift kit for your Jeep today for a more exciting tomorrow!